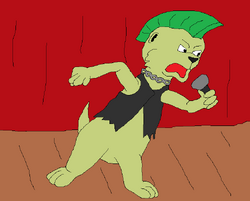 Leo is a punk rock prairie dog living in Calamity City
Leo was born in Calamity City and became a famous punk rock artist.
Physical Appearance
Edit
He is a light brown prairie dog. He has a green mohawk. He often wears a black leather jacket and a chain collar.
Personality
Edit
He has a lot of attitude, is angry a lot, and hates everybody and everything. He only cares about himself and having the time of his life.
Powers And Abilities
Edit
Friends and Family (And Others)
Edit
Comics, Stills, and Story Appearances
Edit