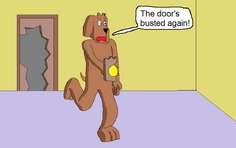 Henry is a brown dog who lives in Calamity City. He works as an actor as well as a director. His friends include Patty, Charlie, and Steve.
Henry was born in Calamity City. He became an actor at Chaos Studios, and eventually broke off into directing.
Physical Appearance
Edit
Henry is a large brown dog. His hair is spiked up. He is incredibly strong.
Personality
Edit
He's not very bright. He is very literal minded, and doesn't understand the concept of pain. His attempts to help others often causes them misfortune.
Powers And Abilities
Edit
Henry is super strong and invulnerable to most injuries.
Home Life
Edit
Henry lives by himself in a small apartment.
Friends And Family (And Others)
Edit
Charlie: Friend
Patty: Friend
Steve: Friend
Community content is available under
CC-BY-SA
unless otherwise noted.